Avignon

Avignon, a strategic site in the Rhone valley located at the confluence of the Rhône and Durance rivers, is well known for its ramparts, its famous Pont Saint-Bénezet, famous the world over in the beloved children's song, and the Palais des Papes, testimony to its prestigious past as Capital of Christianity in the Middle Ages . Because of its imposing majestic architecture this palace is classified as a World Heritage of Humanity site.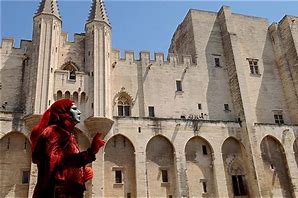 CIMG3442




Flood, fire, pillaging, plague and Le Mistral (a violent, cold and northwesterly wind) have all ravaged Avignon, but this fascinating beautiful city has remained intact. Around every corner of the narrow, winding cobbled streets, elaborately decorated chapels, churches and convents can be discovered. Most date from the 14th century, when Avignon became the centre of Christendom and the Palais des Papes was home to a series of popes becoming a second Rome. It was enriched by art in the 17th and 18th Centuries, and it remained papal property up to the French revolution.
In Avignon, everything worth seeing is within easy walking distance and orientation is not difficult. The city is enclosed in fortified medieval walls, with the River Rhône to the north and west of the town. The Palais des Papes and Pont St Bénezet are in the north, connected by the lively square and place du Palais, which itself runs into Avignon's central square (place de l'Horloge) just a little south. This square is home to the impressive Hôtel de Ville and the beautiful Opera House. You will also find many restaurants and cafés with terraces to sit on in the summer whilst watching actors taking part in the Festival.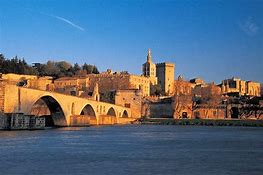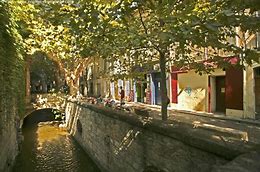 The main shopping street is the rue de la République, which leads into the cours Jean Jaurès as it approaches the southern city walls and the railway station. To the east are several shopping streets and a mass of interesting restaurants and cafes.
The best way to explore Avignon is to wander through its maze of medieval streets. Off the main high street towards the east is the elegant rue Joseph Vernet, definitely worth a detour, lined with Avignon's most stylish boutiques, shops, old hotels, quaint courtyards and gardens. More imposing and mainly frequented by the locals, is the cathedral, Notre-Dame des Doms, a step beyond the Palais des Papes. The cathedral is surrounded by the Rocher des Doms, a pretty public park offering incredible views of the city and the Rhône. In addition to the covered market at Les Halles, south of place Pie, there are colorful outdoor markets at the Rempart St Michel (a food market on Saturday and Sunday) and place des Carmes (a flower market on Saturday and flea market on Sunday).
Autre contenu liés à Avignon :
1 / Le musée du Petit Palais
An outstanding collection of Italian and provençal paintings from the last 13th C. to the beginning of 16th C. as well as Roman and Gothic Avignon's sculpture.
Palais des archevêques, place du Palais des Papes
tél. 33 (0)4 90 86 44 58
fax 33 (0)4 90 82 18 72
Open every day except Tuesday
10 am – 1 pm/2 – 6 pm October to May
10 am – 6pm June to September
Closed 1/01, 1/05 and 25/12
2 / Le musée Angladon
Private mansion in the heart of the old Avignon. On the ground floor, great artists from 19th and 20th C. : Degas, Van Gogh, Cézanne, Vuillard, Picasso, Modigliani, Foujita…. Upstairs, 18th C. parlours, furniture, art objects, paintings : Chardin, Joseph Vernet, H. Robert… and Far East room.
5, rue Laboureur
tél. 33 (0)4 90 82 29 03
fax 33 (0)4 90 85 78 07
Open Wednesday to Sunday
(open Tuesday in high season).
1-6 pm. Open holidays 3-6 pm.
3/Le musée Calvet
In a 18th C. magnificent private mansion, varied collections as paintings or sculptures from the 15th C. to the 20th C. Marcel Puech donation: furniture, decorative arts and goldsmith craft.
Collections Rignault and Victor Martin : Soutine, Manet, Sisley, Camille Claudel, Chabaud…
65, rue Joseph Vernet
tél. 33 (0)4 90 86 33 84
fax 33 (0)4 90 14 62 45
Open every day except Tuesday
10 am - 1 pm/2 - 6 pm October to May
10 am - 6pm June to September
Closed 1/01, 1/05 and 25/12
4/ Le Palais du Roure
Ethnological provençal history, literature and archaeology.3, rue Collège du Roure
Library: open to researchers from Monday to Friday, from 9-12am and 2-5.30pm except August and holidays
Museum : Mediterranean culture centre, specialised in Provence, its history, traditions, language and literature.
Guided visits on Tuesday at 3pm and by appointment
1st floor open during exhibitions (please ask).
Exhibitions closed on Sundays, Mondays and bank holidays.
3,rue Collège du Roure
tél. 33 (0)4 90 80 80 88
fax 33 (0)4 90 80 84 72